2015 River Adventures - Hiking the Middle Fork of the Salmon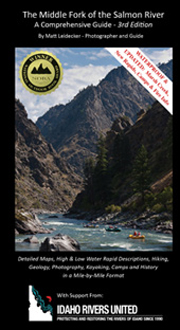 Join
Matt Leidecker
, author of the definitive guide to the Middle Fork of the Salmon River, for an an incredible experience this summer:
A raft-supported hiking adventure down the Middle Fork of the Salmon River
This trip will combine the Middle Fork's world class wilderness and commercial rafting experience with daily hikes along the best sections of the river trail and to special nooks and crannies of the canyon.
With the rafts hauling the load, only a light day-pack is required. Matt will be your hiking guide, sharing incredible vistas, historic and cultural sites, and will highlight each day with his intimate knowledge of the canyon's history, geology, and geography. The trip can accommodate all levels of hiking fitness.
Rafts, guides, and campsite accommodations will be provided by two of the most reputable Middle Fork outfitters. This is not your typical "float and bloat" Middle Fork vacation. Trips are all inclusive, departing from and returning to Stanley, ID

Email Matt matt@mattlphoto.com or call 208-720-4712 with questions about the trip itinerary, the outfitters, or anything else pertaining to this adventure. I hope you can join me on the trail/water this summer!